A Recipe for Learning Life and Career Skills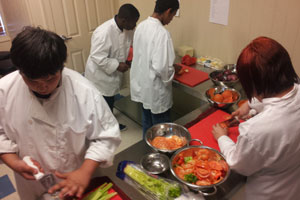 The Catering4Youth Academy prepares students for culinary careers while teaching them important life and academic skills.  
Designed to integrate industry-based standards with academic instruction, this innovative learning environment engages non-traditional learners and prepares them with the knowledge and skills necessary to graduate with a high school diploma and pursue post-secondary education. 
In addition, it creates multiple pathways to entry-level opportunities in the hospitality industry. 
The curriculum is delivered through engaging standards-based projects incorporating content knowledge in mathematics, English/language arts, science and history/social science with a culinary arts thematic overlay.  
Through the Catering4Youth Academy, the boys at New Haven hone their culinary and catering skills as well. Our Catering4Youth Academy is also a student-run catering service where the boys learn entrepreneurial and leadership skills.
Shop the Catering4Youth Academy
New Haven's focus on career technical education and life skills prepares youth to progress higher up the career ladder and closer to where their personal goals can be fulfilled.  
Our Catering4Youth Academy is a delicious addition to our entrepreneurial leadership curriculum. Everyone is dishing about the gourmet goodies that are served up by our enthusiastic youth chefs. 
When you order from the Catering4Youth Academy for your next breakfast meeting, luncheon or mixer, our boys acquire real-world experience and a sense of pride and value. 
Coming Soon! We're On a Roll!